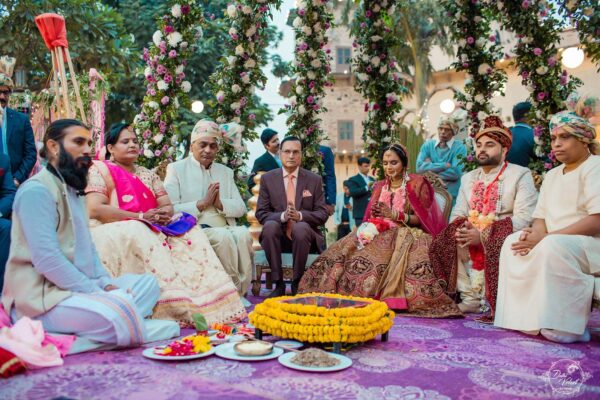 Musical phere is a unique and captivating concept that infuses music, singing, and cultural elements into the traditional wedding phere ceremony. Here's how a typical musical phere program unfolds:
Introduction: The program begins with an introduction, setting the stage for the musical journey ahead. The host or narrator may provide a brief overview of the significance of the wedding ceremony and the purpose of the musical phere concept.
Mantras and Chants: The Pandit Ji or the officiating priest begins the ceremony by reciting the traditional mantras and chants. These sacred verses hold deep meaning and symbolize the union of the couple.
Musical Interpretations: As the mantras and chants are recited, the musical phere program incorporates a variety of musical elements. This may include filmi songs, Rajasthani songs, Hindi bhajans, regional songs, and other melodious compositions that complement the mood and theme of the ceremony.
Seven Vows: During the phere, the couple takes seven symbolic vows around the sacred fire. Each vow represents a promise and commitment to each other. These vows may be accompanied by specially chosen music or recitation to enhance their significance.
Explanations and Meanings: Throughout the program, the significance and meanings of the mantras, rituals, and vows are explained to the couple and the audience. This helps create awareness and understanding of the rich cultural and spiritual aspects of the wedding ceremony.
Cultural Performances: Alongside the main ceremony, cultural performances such as dance, instrumental jugalbandi, or folk music may be incorporated to entertain and engage the audience.
Conclusion: The musical phere program concludes with blessings and well wishes for the couple's prosperous and harmonious married life. The host or narrator may provide closing remarks, emphasizing the beauty and significance of the musical phere concept.
It's important to note that the specifics of the musical phere program may vary depending on the region, cultural traditions, and personal preferences of the couple. The aim is to create a memorable and enchanting experience that celebrates the union of two souls through the harmonious blend of music and rituals.